Personalised




1-on-1 online tutoring
Face-to-face interactive online lessons with a tutor.
Year 6 girl transforms from Cs to As
"Sandra is always creative and keeps finding new ways to get Yuki engaged. She covers all subjects and Yuki loves the challenging math questions that she is given every lesson. We would not hesitate to recommend Cloud Tuition to anyone for tutoring!"
​
Aiko, Year 6 Mum
Year 12 girl achieves all As in her science subjects
"The sessions are always helpful,
well-structured and organised. I've definitely seen a huge improvement in my results since before I started tutoring. I also just received my marks back for chemistry, biology and physics and have gotten As in all of them!"
​
Khushi, Year 12 student
Transforming Student Lives
Join students across Australia who learn online from home. Connect face-to-face with one of our qualified online tutors and receive personalised learning support and academic guidance.
online tutoring hours completed so far
of our students receive As/Bs
of students improve in just under a term
We've also partnered with
ALL CLOUD TUITION TUTORS ARE
Valid WWCC holders




Top ATAR achievers
Personalised

homework, assessment & exam support
Interactive Learning



Draw, write and type on our online collaborative platform
Personalised Materials
Learn with content tailored to you and the Australian Curriculum
Catch Up or Learn Ahead


Improve your knowledge, learning strategies and problem-solving skills
Fit to your Schedule


Book in lessons as you need them or receive week-by-week tailored support
Cloud-based Storage


Review and revise your lesson work on your online student notebook
Learn from Home


Connect to lessons using any device with an Internet connection
Collaborative Support


We work with each family consistently so that we can provide the best support
Quality Tutor Guarantee


We carefully screen and review our tutors so that we provide you with the best
Easier Payments


We provide either direct debit or credit/debit card payment options
Book in your first lesson.
Frequently Asked Questions
Apa itu waitlist challenge?
---
Sebuah periode di mana kamu berkesempatan untuk mendapatkan akses eksklusif lebih cepat ke aplikasi Nanovest, dan juga mendapatkan rewards yang menarik! Kamu bisa menang 100.000 NanoByte Token (NBT) dalam periode ini. Kunjungi nanobytetoken.io untuk pelajari lebih lanjut mengenai NBT.
---
Apa itu NanoByte Token (NBT)?
---
NBT adalah crypto token dari Nanovest. Kamu bisa dapetin NBT dengan download Nanovest & ikutan waitlist challenge. Selain itu, kamu juga bisa dapet NBT dengan ngelakuin berbagai aktivitas dan transaksi setelah kamu dapat full access ke semua fitur di Nanovest.
---
Kapan saya bisa mulai investasi saham & aset kripto di Nanovest?
---
Saat ini, aplikasi Nanovest sedang dalam rilis terbatas. Kamu bisa mulai investasi setelah kamu dirilis dari waitlist. Kami akan memulai proses rilis pada 10 Desember 2021. Semakin tinggi posisimu di waitlist challenge, semakin cepat kamu dirilis & bisa menikmati seluruh fitur di Nanovest! Ayo download Nanovest & join waitlist sekarang dan jadilah yang pertama untuk nikmati semua fiturnya!
---
Apa itu Nanovest?
---
Nanovest adalah aplikasi investasi revolusioner di Indonesia. Di sini, kamu bisa investasi saham luar negeri & aset kripto dalam satu aplikasi, pertama di Indonesia. Selain itu, kamu bisa transfer uang gratis ke siapa pun & kapan pun! Semua investasi di Nanovest mulai dari Rp 5ribu aja, bebas biaya transaksi, dan tentunya gampang banget. Kamu juga bisa dapetin berbagai hadiah menarik, mulai dari uang, aset kripto, dan masih banyak lagi. Jadi, yuk download Nanovest & ikutan waitlist sekarang!
---
Sampai kapan waitlist challenge akan berlangsung?
---
Waitlist challenge dimulai pada 22 November 2021 dan akan berakhir pada 10 Desember 2021.
---
Apa yang terjadi ketika saya masih berada di dalam waitlist?
---
Kami berusaha keras untuk menghadirkan Nanovest secepatnya kepada kamu. Kami akan merilis semua user secepat mungkin, dan tentu saja kamu akan diberi tahu jika sudah dirilis! Penasaran dengan aplikasi Nanovest? Yuk, intip lebih lanjut di bagian "News" di halaman Utama aplikasi Nanovest
---
Bagaimana cara kerja waitlist challenge?
---
Setelah kamu daftar ke Nanovest, kamu bisa lihat posisimu di waitlist / daftar tunggu. Ajak teman ke Nanovest sebanyak-banyaknya pake kode referral kamu. Saat temanmu daftar ke Nanovest pake kode referralmu, posisimu di waitlist akan naik. Kamu dan temanmu juga akan dapat masing-masing 20 NBT.
Selain itu, kamu juga bisa menang 100.000 NBT tergantung dengan posisimu di akhir periode waitlist challenge (lihat tabel di bawah):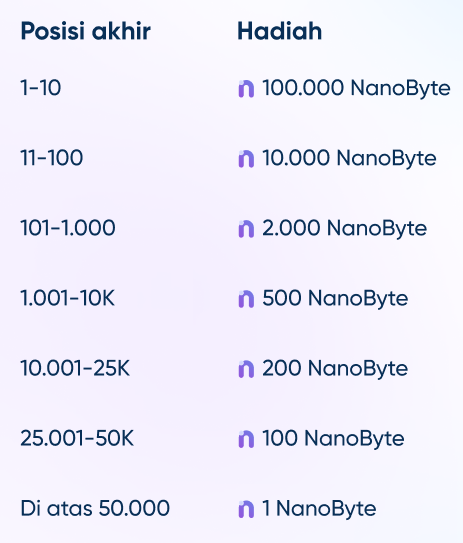 ---
---